Chicken lovers flock to Ladd
By srceditor on May 30, 2013
Rip's Tavern —  it's worth waiting for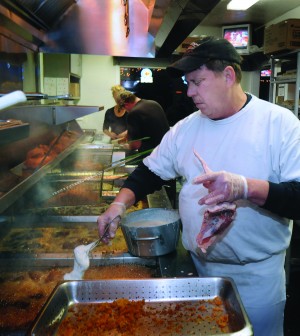 Across the street from Lanuti's, equally passionate fried-food fanatics journey to what many consider the mecca of Starved Rock Country's chicken joints — Rip's Tavern.
The statistics tell the tale.
"We fry up more than 3,000 pounds of chicken and more than a ton of potatoes each week," said co-owner Dave Rounds, who runs the business with his brother, Bill.
"The not-so-secret of our success, started by our grandfather, Silvio "Rip" Gualandri in 1936, is to make an impression without trying too hard — keep it simple and consistent," he said.
"We try to make each visit here for our customers the same experience with every meal they order every time they're here. And even though most nights you have to stand in line here for a table, we work
to keep the wait to a minimum."
Dave said most customers, new and old, realize the line is just part of "the Rip's experience."
"My folks first brought me to Rip's some 50 years ago and there were lines back then — sometimes stretching around the block. I've been coming with family and friends ever since," said Dave Shippert of Byron. He was patiently waiting with dozens of other hungry chicken lovers for a seat.
"The line always goes fast with interesting people to talk to, and because it's the best fried chicken around, it's always well worth the wait every time."
First-timers at Rip's are always surprised there are no menus, and everything is served on paper plates. (The place didn't even have forks until coleslaw was added a few years back, and it's best to bring your own knife from home.)
Customers order while standing in line – chicken strips or quarters of light or dark meat, hand-cut French fries, pickles or fried mushrooms, and as an appetizer there are free servings of "crispies"  (fried bits of batter) that are cherished and devoured by the faithful.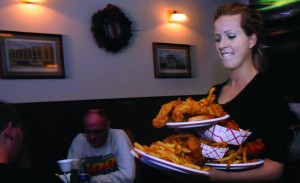 Rip's legions of connoisseurs rave over the huge chicken pieces, calling them "superb, moist and tender with a uniquely delicate flaky crust. "On Fridays, catfish or white fish dinners also are offered and lunch (where even the hamburgers are deep-fried) is served on Saturdays.
Both Bill and Dave give much credit to the staff for their continued success, including a couple longtime employees — waitress Gina Ramey (see related article), who has been serving chicken there since 1957, and John Kopina, a familiar face behind the bar for more than 40 years.
"John and Gina feel like extended family to us," said loyal customer Mary Koehler of Oswego, while munching on fried, battered mushrooms at the bar with her sister, Lynn Bernabei of Peru.
"Lynn and I have been coming here with our dad since before our feet could touch the floor sitting on one of their chairs."
Bernabei laughed and said, "And I can tell you how famous this place is — every time I wear my Rip's sweatshirt out in public, no matter where I am, inevitably somebody comes up to make a comment to me about eating fried chicken in Ladd.
"To us, this place is a one-of-a-kind American institution. There is really nothing like a chicken dinner at Rip's.
"You know, when I stop to think about it, I can't imagine my life without Rip's," said Bernabei. "It's a most amazing place — unforgettable."
Steve Stout